Performance Scorecard
Your dashboard features a personalized scorecard showing your performance as a Gengo translator. The scorecard focuses on quality, and also provides a summary of your work history at Gengo. 
Quality
Language Specialists review jobs using a system called GoCheck, which automatically calculates a job score based on error count, error severity and word count. Scores range from 0 (lowest) to 10 (highest), and you are expected to achieve minimum scores of 7 at both Standard and Pro level jobs.
How does it work?
The quality metric on your scorecard takes into account your entire checked job history since you gained your qualifications. Its goal, rather than to show a simple average, is to display the level of consistency in the quality of your translated works: that is, whether the reviews you receive stay at a similar level of quality.
Let's see it graphically with an example: we have Translator A and Translator B, both got 4 jobs reviewed in total.
Translator A's review scores are all between 7 and 8. Their performance is consistent, and therefore their translator score is 7.44. 
Now, Translator B received two scores of 10 and two scores around 5. Their performance is not consistent, it has fluctuations, so their translator score in this case will be a 3.50 to reflect this.
So, in order to get a better score, your goal as a translator is to maintain a consistent quality in all your translation jobs, with all scores above the minimum of 7. 
What's the meaning of your Translator Score?
The quality metric on your scorecard tells you how well you are doing and whether you should be worried or celebrating your good work. Here's what happens at each level: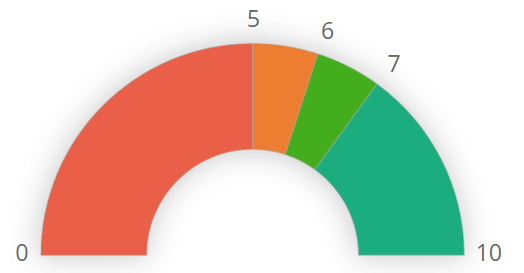 Below 5: your qualifications will get automatically revoked

5 to 6: your quality has been inconsistent and your translations will be reviewed more often

6 to 7: you're doing well, but there's room for improvement

7 and above: you're doing great and you'll get access to more projects! :)
For translators who are qualified in multiple language pairs, your dashboard will display the score of the first language pair you qualified in. We plan to display one score per language pair in the future. However, please rest assured that we keep track internally of all of your quality scores in all language pairs you are qualified in individually.
Job Reviews
Jobs are chosen to be reviewed both periodically by the system and when customers indicate dissatisfaction.
How does it work?
When Language Specialists perform a review, they will select errors as indicated in the screenshot below.

The system will then calculate a score based on word count versus error severity.
NOTE: Language Specialists do not control this calculation.
Low Scores
If your job score is below the minimum required for that level, Language Specialists are asked to provide an overview of errors found.

These comments are for you to learn from and should not be used for revisions unless specifically requested.
As with test decisions, please accept job assessments and scores as final. 
You can, however, send in feedback on your job review.