We offer two great ways to help you keep your content and your brand's voice consistent across all translations. Our most commonly used features is the Preferred translator feature which allows you to choose the translators you wish to continue working with and give them priority over your jobs.
Additionally, we offer Term Glossaries which is a great way for brands to maintain specific terms translated the same way regardless of how many translators work on your jobs.
Last but not least, you also have the power to communicate freely with the translators working on your jobs and provide them with instructions or talk to them about your questions/concerns regarding the translation via the comment area. You can read more about this here.
Preferred Translators
What is a preferred translator?
If you have translators that have worked on your past orders, and you are happy with their quality, you can add them as Preferred translators and give them priority access to your jobs.
What are the requirements to use preferred translators?
You must have at least two preferred translators in the same language pair and level of your order to use this feature.
For example, let's say you want to order a Standard level English to Spanish translation. You must have at least two Standard level English to Spanish translators on your list. (Note: If you only have one English to Spanish translator, and one Spanish to English translator, this feature will not work, as they are not in the same language pair.)
Great! How do I add preferred translators?
After you approve a translation, you will see the Feedback form. If you liked the quality of the translation, you can add the translator to your Preferred list from there (see picture below).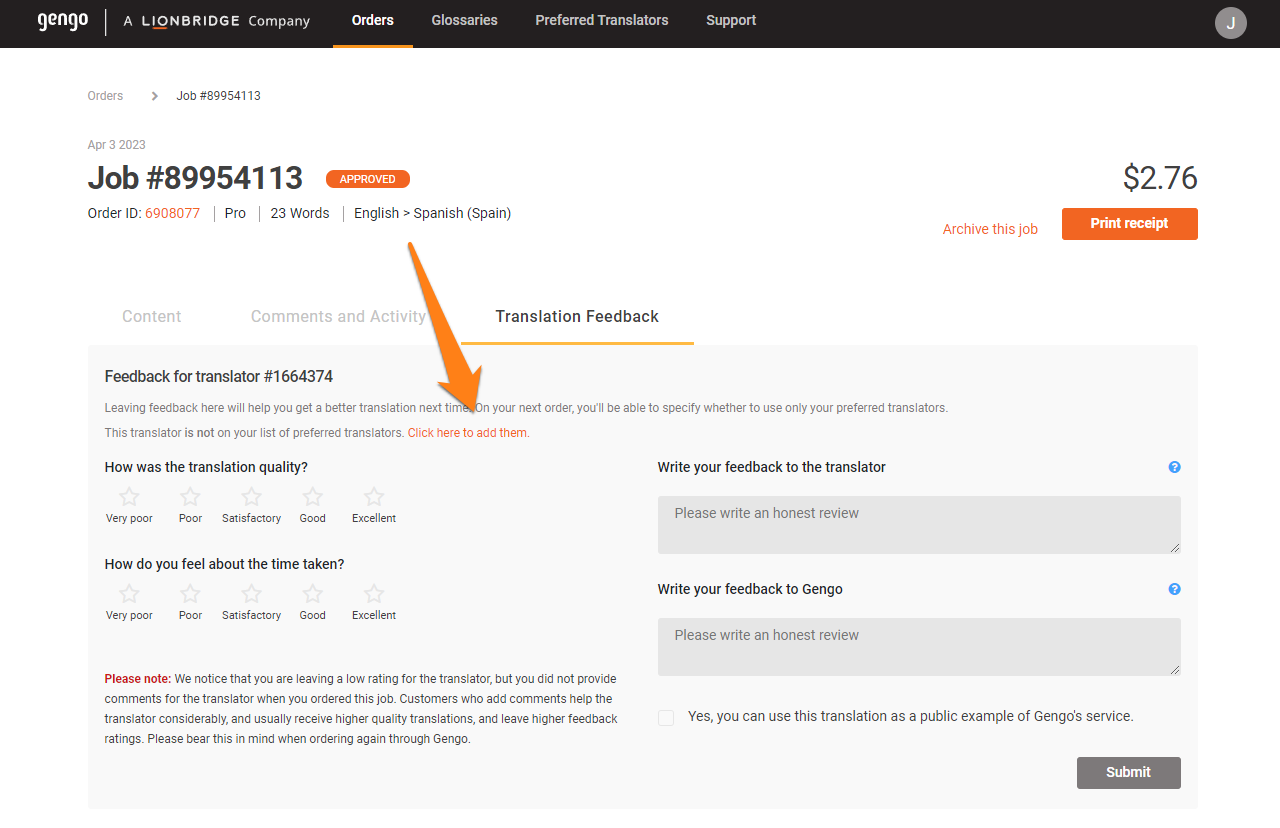 You can also visit your Manage preferred translators page at any time by clicking on the link at the top of your dashboard (shown below).
If you click on "Other Candidates", you can see all the translators who previously worked on your jobs and add them to your "Preferred" list simply by clicking the "+" button.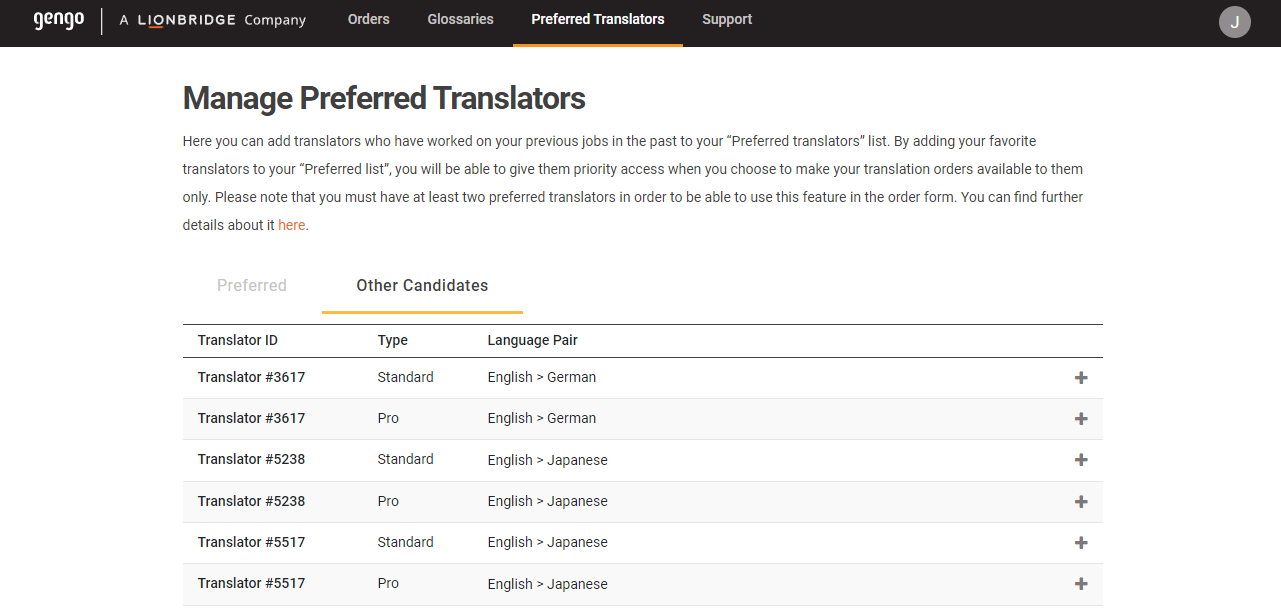 Please note that if a translator is qualified in more than one level or language pair, you can add them by individual language pair and/or level. In the example above, Translator #3617 would be in our preferred list for Standard level English>German jobs, but not for Pro/Advanced level jobs.
I have added my preferred translators! How do I give them priority to my jobs?
If you would like one of your preferred translators to do your translation, select "Use preferred translators for each language" at the last step on the order form.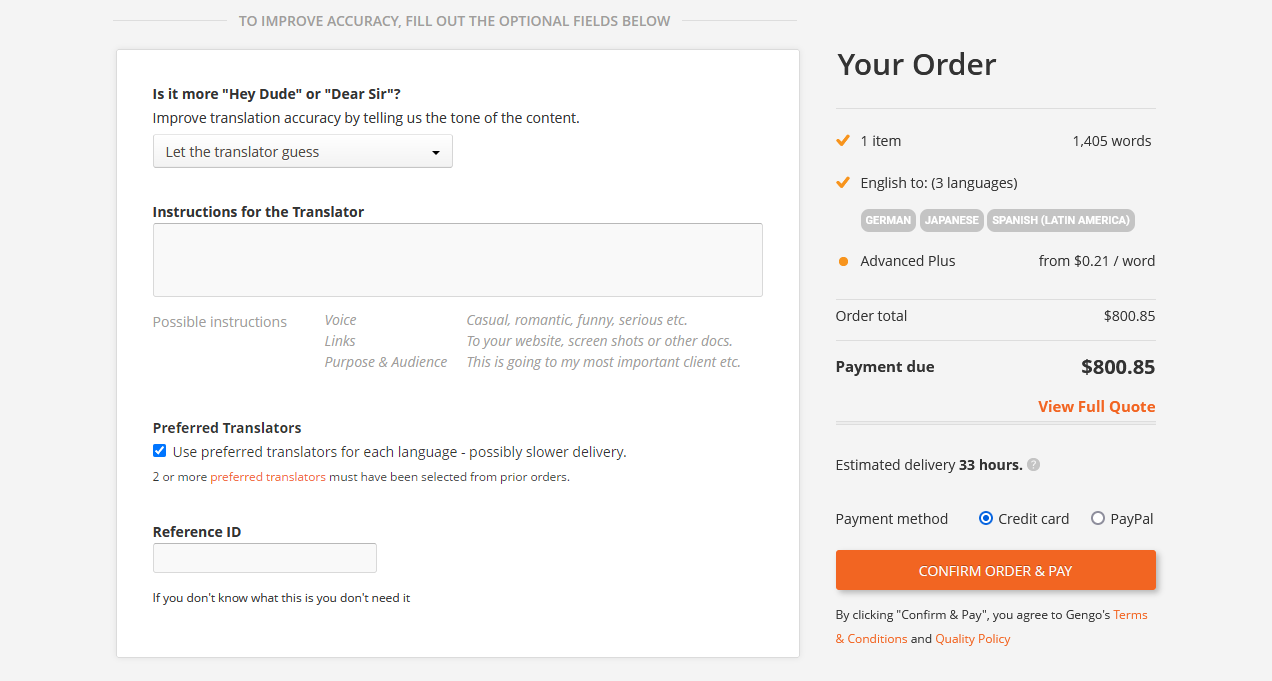 Once your order is placed, you will see jobs for preferred translators marked with a back star on your Dashboard, like this:

How can I use my preferred translators automatically?
We have a Default Preferred Translator option on our end, which acts as a back-up if you forget to check the "Use preferred translators" box when ordering.
To enable this feature, please get in touch with our Support team or your designated contact and ask them to turn on the Preferred Translator option from our side. They can also disable this option if you decide that you no longer want to use it.
What are the pros and cons of using Preferred Translators?
You will get better consistency in your translations by using this feature, but it may increase the time required to complete your job, as it depends on the availability of the translators added to your list.
What if my preferred translators are not picking up my job?
Maybe your preferred translators are not available at the moment, or they are not interested in working on your translation. Since we cannot force freelance translators to work against their will, if you see it's taking too long, you have the option to release the job and make it available to our whole pool of translators.

To do this, go to the job details page from your Dashboard, and click the "Remove preferred option" button.
Term Glossary
What is a Term Glossary?
The Term Glossary itself is a collection of commonly used terms, phrases and other specified words that occur in both your source and target language(s). Company names, model numbers, taglines, product feature names, trademarks, and business slogans are good examples of these.
With a glossary you can more easily maintain consistent terminology and a common brand voice across all translations in any language regardless of how many translators perform your work.
How can I use a Glossary?
Here are a couple of ways to use your term glossary:
Google Drive Spreadsheet: upload your glossary as a Google Drive spreadsheet, enable sharing, and link to it in the job comments section.
Gengo's Term Glossary: automatically insert your glossary terms into translation jobs. Keep reading below to learn how to use this feature.
What languages does Gengo's Glossary feature support?
Our term glossary supports all languages and directions listed on our Pricing & Languages page.
How can I create my Glossary?
The first step is creating the glossary you'd like to use. Just follow these simple guidelines:
Compose a list of all important and frequently used terms (or ask Gengo for help).
Add your new list of terms to an Excel file.
Use Column A for source language and Column B for your desired translation. If you don't have your terms translated yet, you can order a translation of your list using Gengo's worldwide team of translators.
Remember the terms added to your glossary will be the standard for future translations. Choose them wisely.
The picture below is an example of how your Term Glossary should look like.
To upload your glossary or request help from our team, click on the Glossary tab at the top of your dashboard. We'll make sure it gets added to your account quickly and in the right format.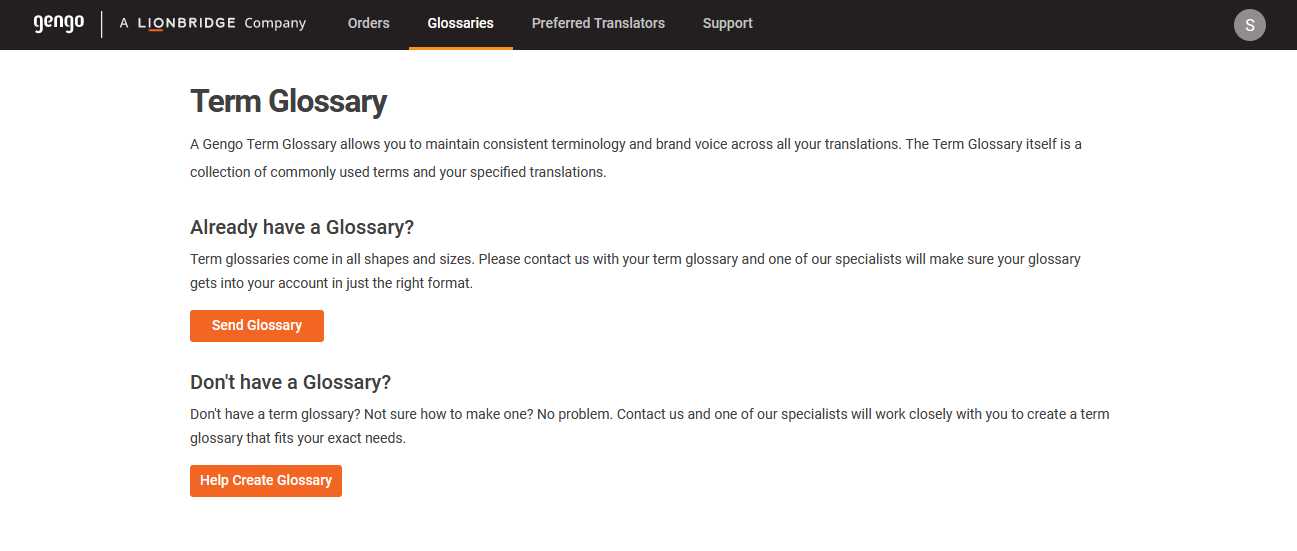 Can I create a Glossary with multiple target languages?
No, at the moment we only support glossary files for one individual language pair, so you will need to create a separate glossary file for each target language.
What if a term has multiple translation options?
You can add multiple target terms for the same source term (in ONE language). Just create multiple entries in your glossary file, as in this example:
Can I add definitions or notes?
Yes, if you have any clarification notes or term definitions, please add them to Column C as shown below:

How to use my Term Glossary?
Once your glossary is added to your Gengo account, you can select it during the ordering process. At the last step before the payment, you will be able to select your glossary.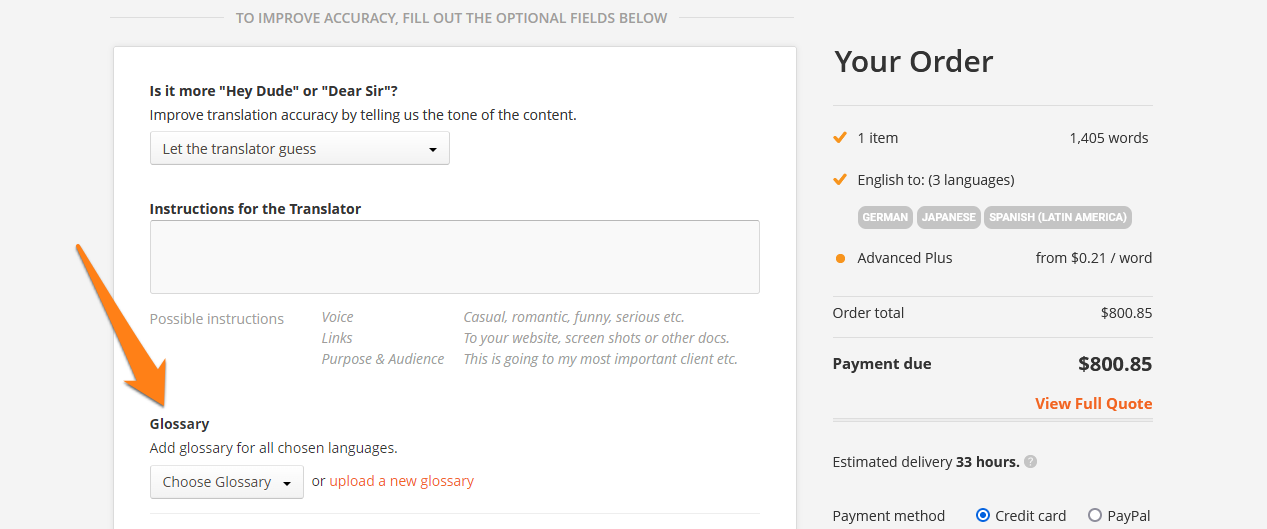 Note: Glossaries are not available for file orders. When uploading a file to the order form, there will be no option to choose a glossary. When having plain text and an uploaded file in your order, the glossary will only be applied to the plain text order.
You can only select one glossary per order. For example, if you have a English>Spanish glossary and a English>Japanese glossary, you will have to create two separate orders to be able to use both glossaries.
How does it look on the translator's side?
Curious about what happens behind the scenes once your order has been placed with its corresponding glossary? Have a look below and you'll notice the glossary terms appear in-line with the content that has been ordered for translation. All it takes is one click and the translator can select the highlighted words that appear from the glossary.