Context is crucial in getting a timely, accurate translation. You can add reference material, context, background, etc. to your order by adding a comment. You can add a comment before, during and after you've gotten your translation. Please also use comments to communicate with translators with any questions or concerns.
How can I add comments while placing my order?
To add a comment with instructions at the moment of placing your order, please use the instructions field at the last step on the order form (see picture below):

Can I add comments and instructions after my order has been placed?
Forgot to leave a comment for your translator? No problem. You can add new comments to your translation at any time.
Go to your dashboard, then open the job you want to leave comments for. From there, click on "Comments and Activity".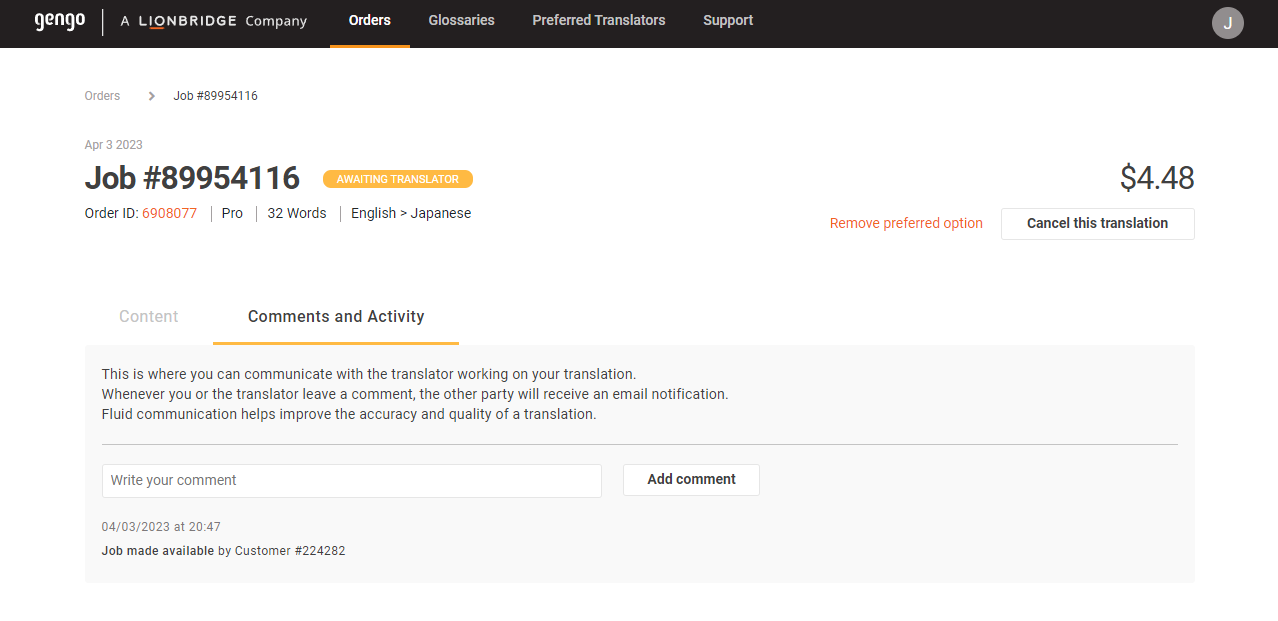 Type your comment in the box and click "Add comment".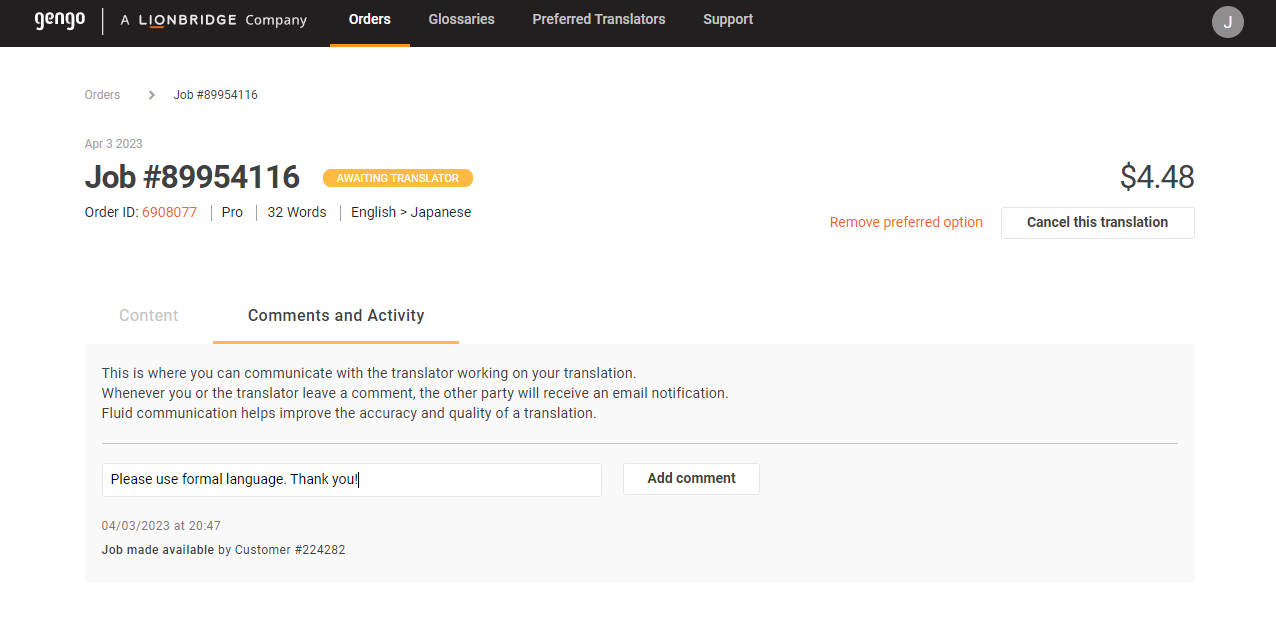 This will also allow you to ask questions of, and read notes from the translator. You will receive an email notification if the translator sends you a comment, and they will be notified too.
I forgot to add some text for translation. Can I add it in the comments section?
You may not ask a translator to translate new text in the comments section. Please only use comments to answer any questions a translator may have or provide references that will be useful during the translation process. If you need to add new text before a translator starts the job, please cancel and re-order. If the job has already been started, you will need to place a new order with the missing text.
What kinds of comments are the most useful for translators?
Here is a list of tips and best practices when leaving a comment for the translation team.
1. A basic explanation of your product or service
Let the translator know what your service is all about. This is very helpful as they choose words and phrases that match your industry.
Example: "Gengo is an online translation platform with a crowdsourced team of over 10,000 translators. Customers who visit our website upload a document or enter text they want translated, receive an instant quote, complete their order and receive a timely translation."
2. Link to the source text in its original context
If you are translating a website, it always comes in handy for translators to see the source text in its original context. We recommend always providing the URLs of the specific pages you are translating.
If you are translating a mobile app or are simply not able to grant access to your website, we recommend providing a link to a screenshot of app or web page. A couple services that can make this easy are Google Docs or Dropbox.
3. Link to a Style guide and/or glossary
We also suggest providing a Google Doc (or similar link) to a Style Guide or Glossary. Style guides can offer specific grammatical, regional, and tonal guidelines for a particular language you are translating into. Glossaries ensures that your "keywords" such as brand names or product-specific terms are translated the same way every time. You can create a simple glossary by creating a spreadsheet of these keywords and ordering them for translation prior to translating the rest of your content. You can also benefit from our Glossary feature.
4. A note on your desired tone
Is this a business document or fun marketing copy? Do you want a verbatim translation or can the translator take some liberties?
Example: "Our mobile app is largely used by teens and people in their early 20s. Rather than using a word-by-word translation, please try to use expressions that would be found natural to this age group."
5. Encourage questions!
Communication is a two-way street so we recommend always asking as many questions as you have to the translator and letting them know that you are available to respond to any questions they may have.
Example: "The instructions I've given above are general, so if you have questions about a specific word or phrase, please just let me know :)"
Why was my email address removed from the comment?
Our system automatically detects and removes emails addresses entered in the comment field. We do this to prevent translators from giving out personal information to customers which is prohibited by our terms of service.

If you need to exchange files with your translator, please consider the following options.

1) Upload your file to a file sharing service like Google Drive or Dropbox and share the link via comments.
or
2) Contact support with the Job ID and your file attached.

*DISCLAIMER: Some translators may not be able to access Google Drive, Dropbox or similar file-sharing services due to government restrictions.
Other ideas?
If you have other suggestions for writing a great comment, please be sure to let us know by contacting our Support Team. We are also working on additional features to help provide context including an attachment feature.