What type of content should I not order through Gengo?
Our translation team currently only undergoes testing for the translation of general texts that do not require knowledge in a particular industry.
If you need to translate specialized content, we have a team of talented linguists, with unique knowledge and experience in their specific industry sectors, who can deliver complex, sensitive and technical projects (such as legal texts). You can learn more and contact our elite project managers here.
However, under our Quality Policy we do not support translation of safety-critical texts. Please do not order translations for texts where human life may be at risk in case of error at either our Standard, Advanced or Plus levels.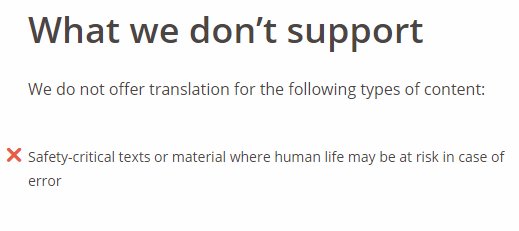 What happens if I order unsupported content?
If you order content that is not supported by Gengo, you lose your right to rejection or corrections. Gengo does not guarantee, and accepts no legal liability whatsoever arising from or connected to the accuracy, reliability, or completeness of any material translated through Gengo.com.