So you've passed the tests and now you are qualified to work. However, you don't know where to start. Let's fix that!
Where can I view available Collections?
View available Collections on your Work Dashboard.
Here you can preview a Collection by clicking over it and checking if the content is suitable for your ability.

Jobs tab
Click on the Jobs tab to see jobs categorized by several filters on the left side: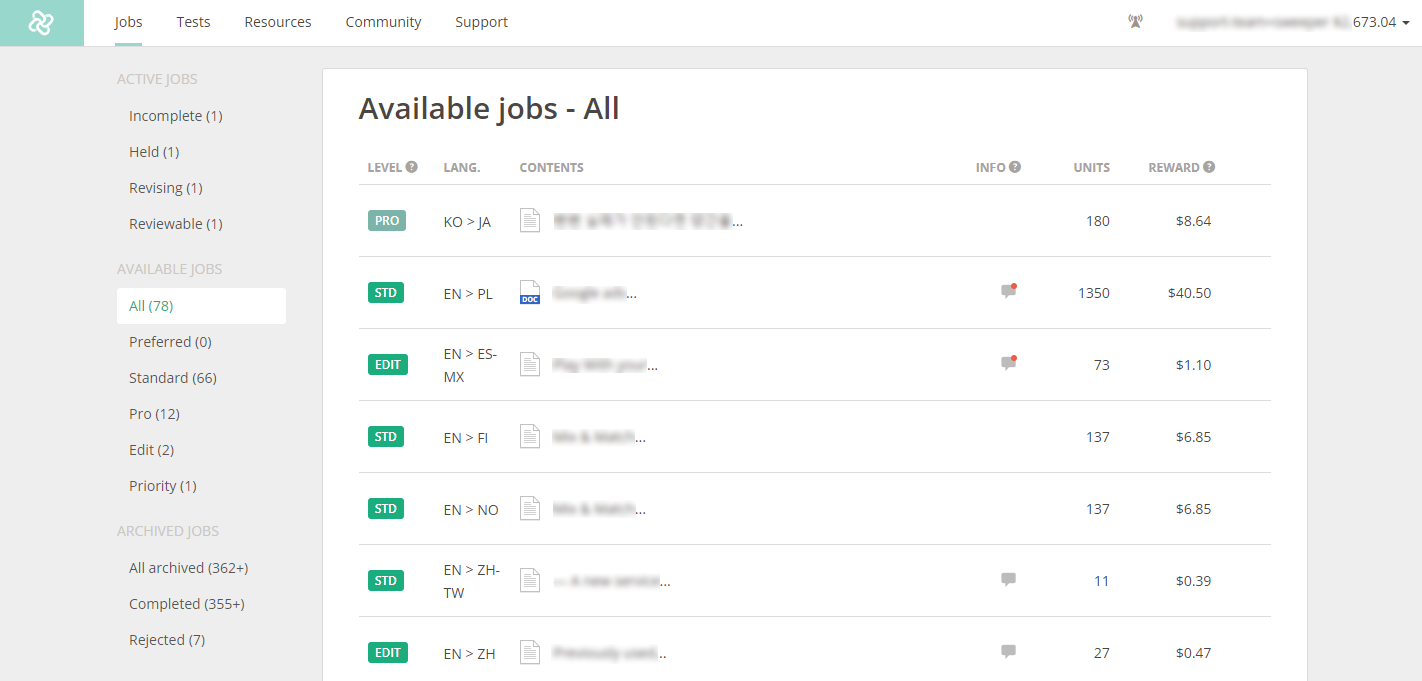 Active Jobs:

Incomplete: the Collection you're currently working on
Held: Collections with an issue that we need to resolve
Revising: the customer has requested corrections, and you have 24 hours to correct and re-submit
Reviewable: submitted and pending customer approval

Available Jobs: you can see all available collections here, and filter by all, Preferred, Standard, Pro, Edit or Priority
Archived Jobs: jobs that have been completed and approved, or rejected
Does the dashboard show all available Collections?
You will see all available collections at any given time, but with a limit of 10 collections per customer. This means that, if there are for example 200 collections from a single customer, you will only see 10 of those at a time from that customer. But don't worry, if there are collections from other customers, you will see them too! For example, you may see 10 collections from Customer A, 3 collections from Customer B, 1 from customer C, and so on, as in this screenshot.
As those 10 collections from Customer A get picked up, you should notice the dashboard gets populated with 10 different collections from the same customer.
This is to ensure a fair and even distribution of jobs, and to prevent your dashboard from being flooded with collections from a single customer who may order in large batches, which could obscure collections from other customers and affect their pick-up times.
Additionally, you will not see collections where the customer uses the preferred translator option, if you are not in their preferred translators list. More about that here.
What is the Priority Filter?
When opening your Jobs Dashboard, you may notice that under the main categories of Standard and Pro jobs there is another one called Priority.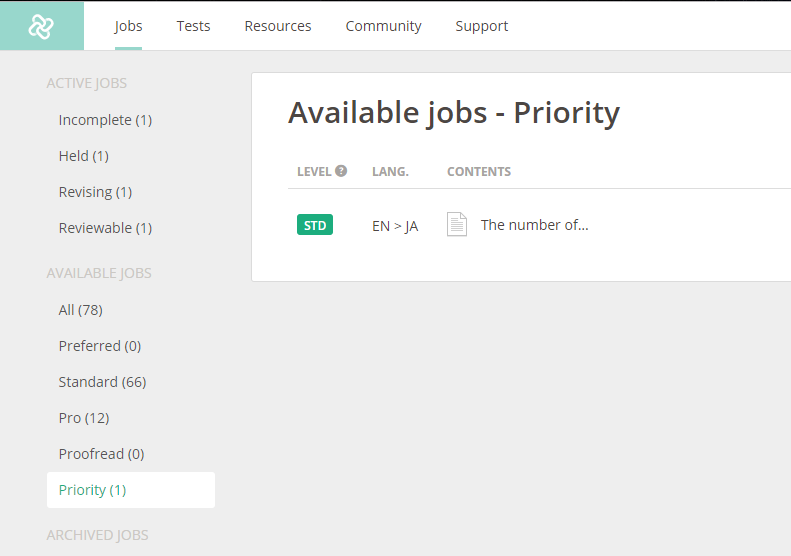 Priority jobs are those that have been on your dashboard for almost 100 minutes without being picked up or flagged. Please be sure to take a look at jobs in this category and pick them up if there are no issues with them. If you do find a problem, please flag them, or contact support if you're in doubt.
You may notice that some jobs don't show up here. This is because some jobs—for example, jobs from high-volume customers—don't need immediate action.
How do I get notified about new Collections?
There are two ways to receive notifications:
1) Email notifications
To enable email alerts, please visit your Profile & Preferences page and click "Email Preferences".
You can choose to receive alert emails:
Daily
Hourly
Every five minutes.
Please note: as the email is generated every five minutes at most, it's possible that by the time you receive them and click on the link, the Collection has already been picked up by another translator.
2) RSS feed
Really Simple Syndication (RSS) allows you to get a quick list of the latest updates from all your favorite websites and blogs in one place—your RSS reader of choice. In this article you will find further information on how to set up and use an RSS feed reader.
How many times can I refresh the Dashboard or RSS feed?
We want to allow all Gengo translators to have fair access. We also need to manage the load on the Gengo servers. Thus, Gengo uses caching.
Caching means you will not see fresh data every time you load a page or RSS feed—you'll only get it after a specified period.
The Dashboard, available jobs pages, and RSS are cached for 60 seconds. The cache is created the first time you load the page or request the RSS feed and expires 60 seconds later. This means there is no advantage to loading the page multiple times per second.

You can still set your RSS Feeder requests to up to 10 requests per second, but that's our limit. Anything above 10 requests per second will fail. This is to make things fair for everyone, and also to prevent database overloads.
Please do not use any bot or other automated solution to accept Collections. Users who consistently abuse the Gengo site using a bot, sending above 10 requests per second (we'll know when this happens), or other automated solutions to accept collections risk demotion or suspension.
Do I have to work on these Collections?
There is never any obligation for you to work on any Collection. Pick Collections that suit you, and enjoy the flexibility and autonomy that working for Gengo affords!
Can I hide Collections that I don't want to work on?
If you see available Collections on your dashboard from a specific customer or about a specific topic or category you're not familiar or comfortable with, and you don't want to work on them, there is no option to hide them at this moment.
In any case, please remember that having those Collections on your dashboard will not make you miss out on anything. You can still see Collections from other customers, so you can ignore the work you don't like (remember you'll only see a maximum of 10 Collections from each customer), and focus on other Collections that appear on your dashboard that better suit your interests.
That said, if the Collections come from a customer who selected you as preferred translator (they are marked as "Preferred" with the heart icon), and you want to stop seeing their jobs, please contact us and we'll remove you from their list.

Please note, however, that you will not see any Collections from that customer again. Maybe at a later point they may start ordering content that you're more comfortable with, and in that case you would be missing out on those!
Can I work on multiple Collections at once?
Our system allows you to work on only one Collection at a time. This is to ensure that you give each Collection your full attention, and that all translators are given an equal opportunity to pick up Collections.
I passed the translation test and I'm qualified to work, but there aren't any available Collections. Why?
1) All collections may have already been picked up by other translators
Gengo operates on a "first-come, first-served" basis. Once you or another translator starts working on a Collection, no one else can access that Collection. To hear about Collections first, we recommend changing your Email Preferences here.
2) We haven't yet made your language pair available to customers.
This is because we don't have the minimum number of qualified translators needed to start service. When we're ready to open a new pair, we will announce it via our blog, the work dashboard and/or email. Check the full list of available language pairs here.
I used to see a lot of Collections and now there are hardly any—why?
If you've experienced a big drop in the number of available Collections in your language pair, a customer who used to make their jobs available to all translators may have recently decided to only use a small group of preferred translators to ensure consistency and high quality in their translations.
However, there are many other explanations. For example:
Some big clients order in large batches.
Customer demand might increase temporarily following a press release about Gengo or decrease temporarily due to national holidays.
Increase in translators will lead to more competition for Collections
In short, volume will always fluctuate. We try to control the ratio of Collections to translators by turning testing on or off, and we're always working to increase our customer base (of course!).
Will I get access to more Collections if I deliver good quality?
Yes, you will! :)
We've been listening to your feedback, and we are now implementing a new job distribution system which will allow us to give access to jobs in a much fairer way.
Translators with a Quality Score of 8.00 or more will have access to more and exclusive Collections, including higher paying Collections. This allows us to reward you for your hard work, commitment, and dedication to Gengo, while at the same time helps us deliver the best quality possible to the end customer.
For now we are trialing this feature in a few selected language pairs, and will soon apply it to everyone.