Some translation jobs you want back quickly, others you want given special attention. That's why we provide you with two main service levels for your various translation needs—Standard and Advanced. All translators have undergone a rigorous human-graded testing process and have been qualified for their level.
Standard
Standard level is our quickest service level and we highly recommend it for the majority of everyday content such as product descriptions, blog posts, emails, phone apps or social media content. As Standard level translators have passed both a Multiple Choice screening test and a written test graded by a member of our Language Specialist team, you can expect an accurate translation of your text at this level.
Advanced
We recommend Advanced-level translations for the translation of more formal uses like published news or magazine articles, instruction manuals, product information, or online advertising. Advanced-level translators undergo a second level of written tests. You can expect very careful attention to the source text's original tone and purpose-specific language.
For a more detailed explanation of each of these price levels and what you should expect, please check our Quality Policy page.
Need the ultimate quality? Go Plus!
With our Standard Plus and Advanced Plus services, your translations will undergo additional proofreading by a second translator, who will fix any errors and ensure the text reads naturally in the target language.
This will allow you to get your message across to your audience convincingly, authentically and professionally—without careless errors.
Currently, the Plus services are available for plain text orders only (not for file orders).
Recommended level for each type of content
When you choose your content type in the order form, a recommended level will be selected automatically. For example, for legal/contractual content, we recommend ordering at least at the Advanced level.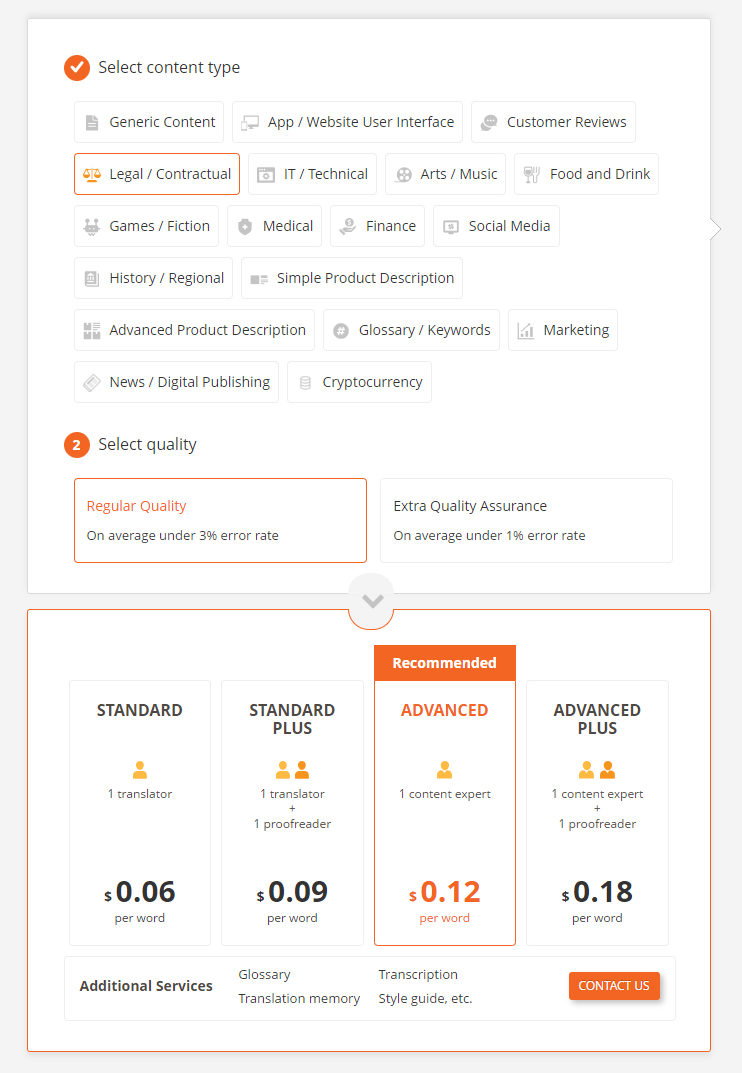 You can still manually select a lower tier, but please note that doing so may potentially result in a lower quality translation. You'll also see the following warning below.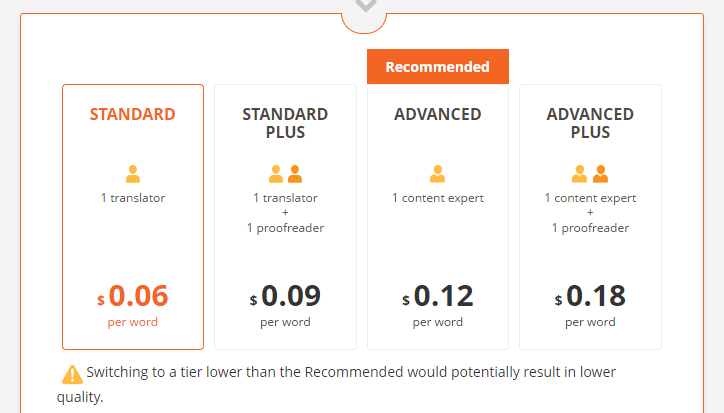 In some cases where a content expert may be necessary, such as for legal content, we won't be able to guarantee the quality of the translation and may not honor rejections or quality complaints if you switch to a tier lower than recommended.
Please see the full list of content types along with recommended quality levels below.