What qualifications or experience do you need to translate with Gengo?
You don't need translation qualifications or experience to become a Gengo translator; we're happy to work with anyone who can pass our translation tests and consistently translate to our standards.
This makes Gengo a great option for both established translators and beginners with strong language skills. Read more on the blog
Who can work for Gengo?
You CAN work for Gengo if...
If you are a U.S. citizen
If you live in the U.S. (resident alien) and are legally allowed to work in the U.S.
If you are NOT a U.S. citizen, and you live outside the U.S. (i.e. you live in any country except the U.S.)
You CANNOT work for Gengo if...
If you are NOT a U.S. citizen, and you live inside the US without permission to work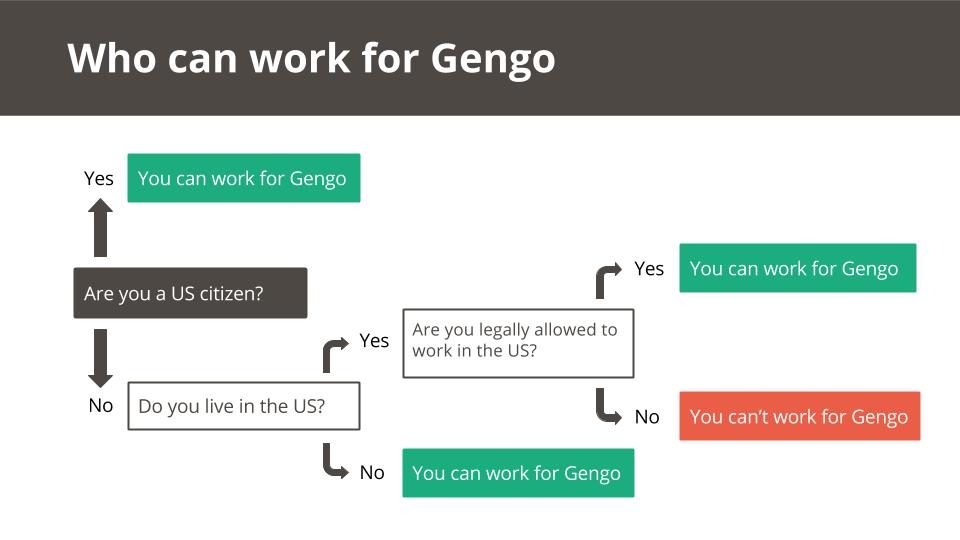 How do I become a Gengo translator?
Step 1: Sign Up
Step 2: Take the Gengo Test
Study
Before you attempt a Gengo test, be sure to read the Test Instructions, Test Expectations and Style Guide. Gengo is a little different to other translation companies and these documents will help you understand our system and approach.
Start the Test
When you're ready to test, go to the Tests page in your Work Dashboard, log in, select your language pair, click SHOW TESTS and start testing. 
Results
Your test will be reviewed by one of our Language Specialist, who are professional translators and native speakers in the target language. We receive an extremely high volume of test submissions, and they will do their best to review your test in 7-14 days, however this is not a guarantee.
IMPORTANT: You can test up to three times during a six-month period.  We encourage you to try again if you don't pass the first time!
Step 3: Agree to Our Terms & Conditions
To access available jobs in your qualified languages, we need your full address details, and for you to agree to our Translator Agreement and Translator Non-Disclosure Agreement.
Step 4: Go to the Work Dashboard, and start working!