While turnaround times vary, Standard level is typically our fastest service. For most texts of under 500 words, you will receive your text in under two hours. At Advanced level, a similar-length text may take longer, up to 16 hours. And for the Standard Plus and Advanced Plus levels you may need to wait a bit longer, as the translation has to be proofread by a second translator.
We don't have any time guarantees, but the turn-around time depends on how long the job is, what service level you chose, if you want one of your preferred translators to do the work and whether it's a grouped order. But here are some recent stats:

94% of translations are completed within the given deadline

98% of jobs are picked up within 2 hours

Average time for translations under 500 words is 90 minutes 
You can get an indication of how long it will take to translate your order through the Estimated time and Expected completion time features explained below.
What do you mean by "Estimated time"?
When ordering your translation, there will be an estimated completion time provided below the Order total. The estimated time is calculated by taking into account the word count, average pickup times (which varies depending on translators' availability) and completion time. We show an estimate to give you an indication - but it isn't a guarantee. Why? We're great at everyday translations, but we're not a specialist agency. Complex jobs can take much longer than simple ones, and we can't tell before you order how difficult your translation is. Contact us if you have something complicated and you're not sure - or indicate in the comment box if you only need a quick, simple translation and not a specialist.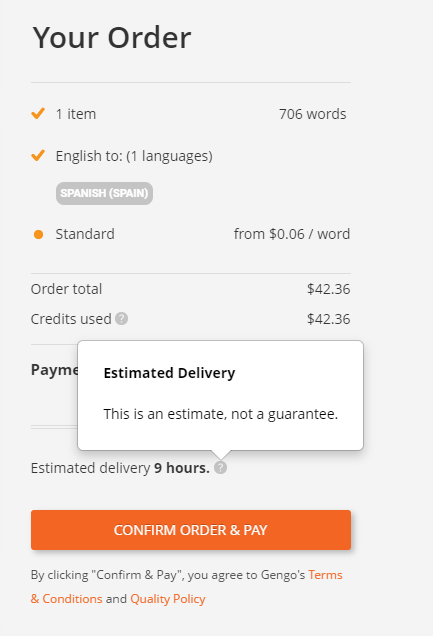 Expected Completion Time
Once you submit your order, translators are immediately notified of your translation job and the first one available will start working. After translators accept a job, they are given a deadline based on the word count. This is the Expected Completion Time, and you can view it from the job details page. 

While the majority of jobs are completed within their expected completion time, issues such as problems with the translator's Internet connection periodically occur. If the translator fails to submit the translation on time or chooses to cancel the job, it will be passed on to another worker.
Can I set a deadline for my translation order?
At the moment, there is no way to set a specific deadline for your translation or receive a guarantee on turnaround time. You can, however, leave a comment asking your translator for an ETA or if it is possible to finish a bit before the deadline. In the future, we hope to offer a "Guaranteed delivery" or "Rush" option. You can let us know if you are interested by contacting us here.
Do you translate on weekends and public holidays?
We have translators located in every timezone of the world. They share the desire to work flexibly and efficiently on translation and are available through weekends and public holidays.